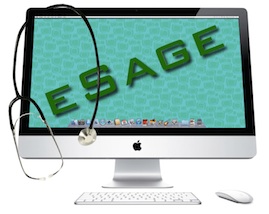 Like many IT support and consultation providers, eSage is essentially a home-office based team staffed by a husband and wife team. Its principal Steven Korunic (a.k.a. 'Steve K') has worked supporting Macs for clinics since year 2000 so has built plenty of trust and good reputation among the users in that time.
eSage can work with your existing IT guys to complement any project requirements.
When it comes to computers, eSage has an Apple ecosystem strength but we can deal with Windows systems depending on the nature of the issue.
What We Offer
With TeamViewer within seconds eSage can virtually visit your screen to sort most issues. It doesn't matter whether it is for home or office, the method is the same. For frequent and heavy use customers, permanent connection can be set up. This is particularly useful for servers that may need maintenance support in the middle of the night.
In cases when remote support isn't practical or possible, a site visit is done. All of Auckland is covered and, in dire circumstances, even further afield.
If needing to drop off or pick up a device being repaired clients may visit eSage and save themselves any call-out fees for the same.
Endorsements